Here's a collection of our mods that aren't products (yet or may never be) but are interesting.
GB MBC3 Clear Flash Cart
– Uses a clear flex PCB on a modified GB cart shell
PicNRec AIO
– Integrates a GB camera flash cart and the PicNRec together on the same PCB
Pokemon Mini 2MB Flash Cart
– A flash cart for the Pokemon Mini that uses the a PCI-E connector so you can re-flash it with GBxCart
Embedded GBA rumble prototype
– Supports both GB and GBA games. Could add an MCU to hook up to the buttons to turn rumble on or off and possibly configure the rumble strength
Game Gear 2MB Prototype Flash Cart
LEDTris (block stacking game)
– A 96×32 LED display with a wireless receiver to work with our TX carts
Wonderswan Prototype Flash Cart
– A 4MB flash cart for the Wonderswan re-using the Bandai mapper
MegaDuck 32KB Flash Cart
– Just a regular 32KB cart for the MegaDuck handheld
GBA 32MB flash cart that fits in a DS lite dust cover
– Could be useful for GB Macro builds
GB MBC7 Mini flash cart
GB boot logo fun, an unskippable intro
GB Motion Game Changing Flash Cart
– Change games by shaking your GB
GB Button Flash Cart
– A simple flash cart that lets you switch between 4x games by pressing the button
PCB as a GB cart shell
– 3 PCBs with solder holding them together to make a flash cart that's it's own GB cart shell
Portable wireless RGB light bulbs
– Controlled from a GB cart with the nRF24 module. It's yet another way to play the BULB game
Sachen 8 in 1 Cart
– A bit of a modification to our 1MB custom boot logo cart and little bit of patching/aligning files, we have ourselves a Sachen 8 in 1 cart
Controllable RGB LED
– An RGB LED that you can control using a Gameboy. You could patch existing games to make use of it.
GB MBC3 RTC inkNLoad – E-ink display in a Gameboy cartridge
– A prototype usb flash cart that uses an E-ink display which could be used to display the game that was flashed or anything you like
BULB game with a reactive external light
– This is correct way to play the BULB Gameboy game!
Wireless Gameboy Camera
– The Gameboy Camera goes wireless
Recording a GB Camera's live view
– With this inline device we can record a Gameboy Camera's live view and read it back later. At the moment, it could record for maybe 5 mins or so, depends on the frame rate. Could upgrade it to a larger chip and record for 1 hour
GB 96 Byte diode (LED) cart
– A GB cart with 16 bytes of user code + 80 bytes for the header so it boots on a GB. With 16 bytes it's just enough to do something weird with the screen, could add more bytes if needed. Swapped out diodes for LEDs
GB Wisdom Tree Mapper Flash Cart
– A GB Wisdom Tree mapper flash cart, only a handful of games use this mapper
GB 32KB XMAS Cart
– A build it yourself 32KB XMAS cart that flashes the LEDs in a sequence, speed is adjustable
16 Slot GB Cart Flasher
– Flashes 16 carts at a time, then reads the ROM back to compare to the original. Handy for our cart service. Can insert the PCB itself, no need for cart shells which saves a little bit of time
GBxSP
– A GBxCart in a GBA SP shell
Gameboy Game cheating device
– An experiment of taking over VBlank to make a GameShark similar device
Gameboy 24 Switch Puzzle Cart
– A cart with 24 switches that only unlocks the success ROM once the switches are in the correct position. Switch positions are re-programmable
GBA in a Monitor
– We put a GBA in a monitor so you can easily play games on the big screen using our wireless TX cart
GBA IMU + Rumble Flash Cart
– Upgrading the Z axis Gyro only cart to use an IMU so we can have access to the X & Y axis as well. Potentially someone could patch games to use this as a control method
MBC3 LinkNLoad Flash Cart
– Integrating a GBxCart into our MBC3 RTC cart, similar to our LinkNLoad32 USB flash cart
GBA Gyro + Rumble Flash Cart
– Someone asked what would be needed for a Gyro cart for WarioWare – Twisted so we thought we'd give it a try
Power switch-less GBA
– A GBA that turns on when carts are inserted and powers off when they are removed.
GBA 32MB Multi-game cart
– Uses 1MB blocks for the flash so you could write multiple small games and 4 banks of 256Kbit FRAM for the save. It was supposed to be a 1Gbit cart using BGA flash as it was very cheap but unfortunately it was a bit too slow to work properly, might try with a slightly faster one.
GBA 3-in-1 (32MB x 3) RTC Flash Cart
– We upgraded our 32MB RTC cart to use a 128MB flash chip, save chip upgrade and installed a 3 position switch so you can simply change between 3 games, like Ruby, Emerald and Sapphire
GB MBC3 with RTC in a GBA cart shell
– After some requests, we miniaturised our MBC3 with RTC cart to fit into a GBA cart shell
GBA RTC Cart Based RGB LED Clock
– An LED clock that ticks using a GBA cart's RTC
Tobu Tobu DX Rumble Patch
– A quick patch to add rumble support to Tobu Tobu DX (may have some issues with it)
GB USB Keyboard Adapter
– Due to the recent Work Boy videos that came out, some users mentioned we could do something similar so we made a USB keyboard adapter
GB 64MB ESP8266 Wifi WebCart
– Since the GBA WebCart worked, we did one for the Gameboy. The idea is to have a app store shop like feature so you can download and play homebrew games.
GBA 32MB ESP8266 Wifi WebCart
– Inspired by the NetCard that was recently talked about, we made our own version with the ESP8266 and here is a little demo of it. Had to use BGA Flash and FPGA to make it fit. Could populate a 1Mbit save chip too.
GB Swappable Cart
– Just for fun we put a PCI-E Mini connector in a GB cart so you can swap out the flash chip and save chip.
SPVGA (GBA SP to VGA)
– We have AdvanceVGA for the GBA so we wanted to try doing something similar for the GBA SP. It doesn't look pretty but it works, custom made USB-C to VGA cable. Might look better with a GBA SP ribbon cable and using a Mini-VGA connector.
GBA with a 3000mAh LiPo, RGB Reg & Charge (DC-DC) with USB-C
– Just an experiment to see how large of a battery we could fit in a GBA plus making as small of a Reg & Charge with an RGB battery indicator as possible and adding a USB-C connector on the top
Flash2Verify
– Build your own 5V flash chip programmer to verify that you can program the flash and read back the contents. Currently only the AM29F016B is supported.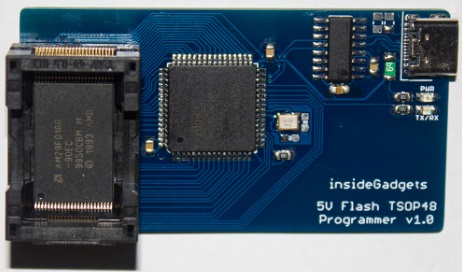 GB 2MB ROM, 32KB FRAM Logic Cart
– An MBC5 implementation in 74 series logic chips
GB 32KB Multi-Function Multi-Cart
– Just something a bit silly
GBxGBA (GBxCart in a GBA)
– Just thought this might be interesting to try
Faking Flash ID and Banking on a GBA cart
– This allows us to use any 1Mbit (or higher) flash chip for the saving on Pokemon GBA games so we no longer rely on using the original 1Mbit flash chips from Pokemon GBA games
Gameboy BGA Flash cart
– Our first test with BGA parts
Gameboy Flash Cart with Rumble Mod
– Just a little mod to add rumble support for games that use it
QuadBoy Micro Advance
– We saw a dual screen GBA SP and GBC so how about a quad micro screen GBA?
20cm Gameboy Cart Extension
– A simple cart extender
GBA cart extension / LCD extension
– Uses an FFC to extend the GBA to 90cm or LCD to 60cm, just a fun test to see how far they would go
RGB Battery Indicator for the GBA
– Uses a custom board, flex board for the LED and very thin wire to hook it up
Our own GBC 101
– Just testing it out, a little glitchy but hoping to make one that uses a GBM LCD
sGBA
– Custom PCB with the GBA CPU, RAM, etc with a GBM LCD inside a SNES controller
Laser Engraved Gameboy Cartridge
GBA-M LCD Adapter
– The GBA LCD interface is similar to the GB Micro LCD interface so we were able to make an adapter board to use an GB Micro LCD in a GBA
GBA Auto Fire Mod
– Hold down a button and it presses and releases it for you
GBA Macro
– Record button presses and play them back
Hot swapping batteries
– With a LiPo and chip inside we can hot swap batteries while the GBA is kept running
Wireless GBA TX with Rumble
– We can mod the wireless GBA TX cart to support rumble coming from the Gamecube
LiPo Battery Gauge
– We can monitor the LiPo battery in a GBA on 10 LEDs in a clear shell to give a better indication of battery life
AdvanceLCD v1
– We made a standalone GBA unit and our own LCD controller for this project with features that include wireless control, stereo speakers, LCD brightness and volume control, VGA out and a 10Ah LiPo battery which could potentially make it last for 24 hours of play time!
Custom GBA PCB
– We harvested the GBA AGB chip, memory and crystal on our own PCB as a test to see if it works.
Custom RGB Border
– By intercepting the GBA LCD signal we were able to make our own custom colour borders for GB games
Playing around with the GBA LCD
– Just playing aroudn with the LCD signals to see what effects we can achieve.
Playing a Gameboy Advance Console Wirelessly
Wireless Gameboy Link
– With some nRF24s and making a little demo game, we can send packets using the link port.
32KB Flashy Cart
– An experiment to see how the LEDs would flicker depending on the game run.