Wireless Gameboy Controller
$12.00 – $33.00
This device allows you to use your Gameboy, GBC, GBP, GBA and GBA SP as a wireless controller on any device which accepts a USB HID Joystick interface such as a PC (Windows/Linux), Raspberry Pi (e.g running RetroPie), etc. No modifications to your device is required.
Simply insert our Wireless Gameboy Controller TX Cart to your Gameboy of choice, plug in our Wireless USB receiver and you're ready to go!
The range has been tested indoors to be at least 8 metres. The USB refresh time is 8ms or 125 times a second (tested on Windows 7 & Ubuntu 16). Every 2ms, the Gameboy keys are checked and a packet is transmitted to the receiver.
This product can be back ordered, you'll be provided with an ETA when more stock is expected, usually it's 2-3 weeks.
Check out the demo of the prototype below.
Additional information
| | |
| --- | --- |
| Product | Cart & USB Receiver, Cart only, USB Receiver only |
How to Use
If you order the Cart & the USB receiver they are already paired. All you need to do is insert the cart, plug in the USB receiver, configure your software and you're good to go.
Under normal operation you should see the LED on the Cart and the USB receiver light up, this shows that data is being transmitted/received.
Changing RF Channel/Address
If you find that your key presses aren't working well, you may wish to change channels. You would see the USB receiver LED begin to flicker if that's the case.
You can also use a single Cart with multiple USB receivers by having all USB receivers be on the same channel/address.
1. Power up your Gameboy and hold down the Start button and you will see the configuration screen.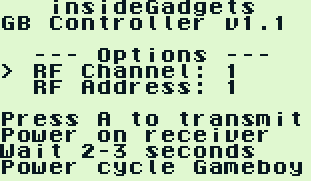 2. Use the cursor keys to change the RF channel or address to your liking then press the A button on the Gameboy.
3. Plug in the USB receiver and you should see two blinks of the LED.
4. Power cycle the Gameboy and then you should see the USB receiver LED turn on and stay on.
Shipping rates/Delivery times
We usually ship within 2-3 business days and will let you know when your order has been shipped. We ship overseas all around the world – America, Europe, Asia, etc (except to Brazil or Mexico due to lost packages) and to reduce shipping costs we send via the Airmail letter service for $3. Any item you order will come to you with in a padded envelope due to a restriction that letters can't be more than 20mm in height.
The usual delivery time is 2 to 4 weeks; we ship via Australia Post. Unfortunately there is no tracking number available for this Airmail letter service.
You are responsible for any import tax/duties or other charges that may apply (so far we have had 1 report of a user having to pay import tax in the UK).
If you are looking for faster delivery times, please contact us for a quote, please note that shipping prices can start from $36 for 2-3 days delivery to the US (via DHL).