Description
Works with GB Studio v1.1.0+ with saving if you wish to develop your own game. Check this list of Gameboy games to see the ROM/RAM size and MBC type your game will have, you would be looking for MBC5 games but most MBC3 games should work and a few MBC1 games may work.
Questions? Jump on our Discord server where we and other users can help you or contact us via Twitter.
This cart works on every Gameboy system – GB, MGB, GBC, GBA, GBA SP and the Game Boy Player. It also works on the N64 transfer pack for Pokemon Stadium 1. Games that require more than 2MB of ROM won't work.
Specs
ROM: 2MB Flash
FRAM: 32KB (FM18W08)
MBC5 (with ROM banking range 0x2000 – 0x3000 to allow for some MBC3/1 games)
The PCB finish is ENIG.
8KB Ram Lock
Bridge this pad for games like DK2/DK3 that can corrupt save data. Also for Pokemon Pinball that seems to switch RAM banks in game.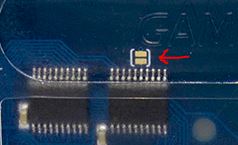 RGB Cart Demo/GB Studio 3 Plugin
iG_RGB_LED_Demo (Simple ROM to control the LED, makes it easy to find a colour combination)
RGB LED GB Studio 3 Plugin (Copy the plugin folder to your GBS project folder)